Planning for the Arrival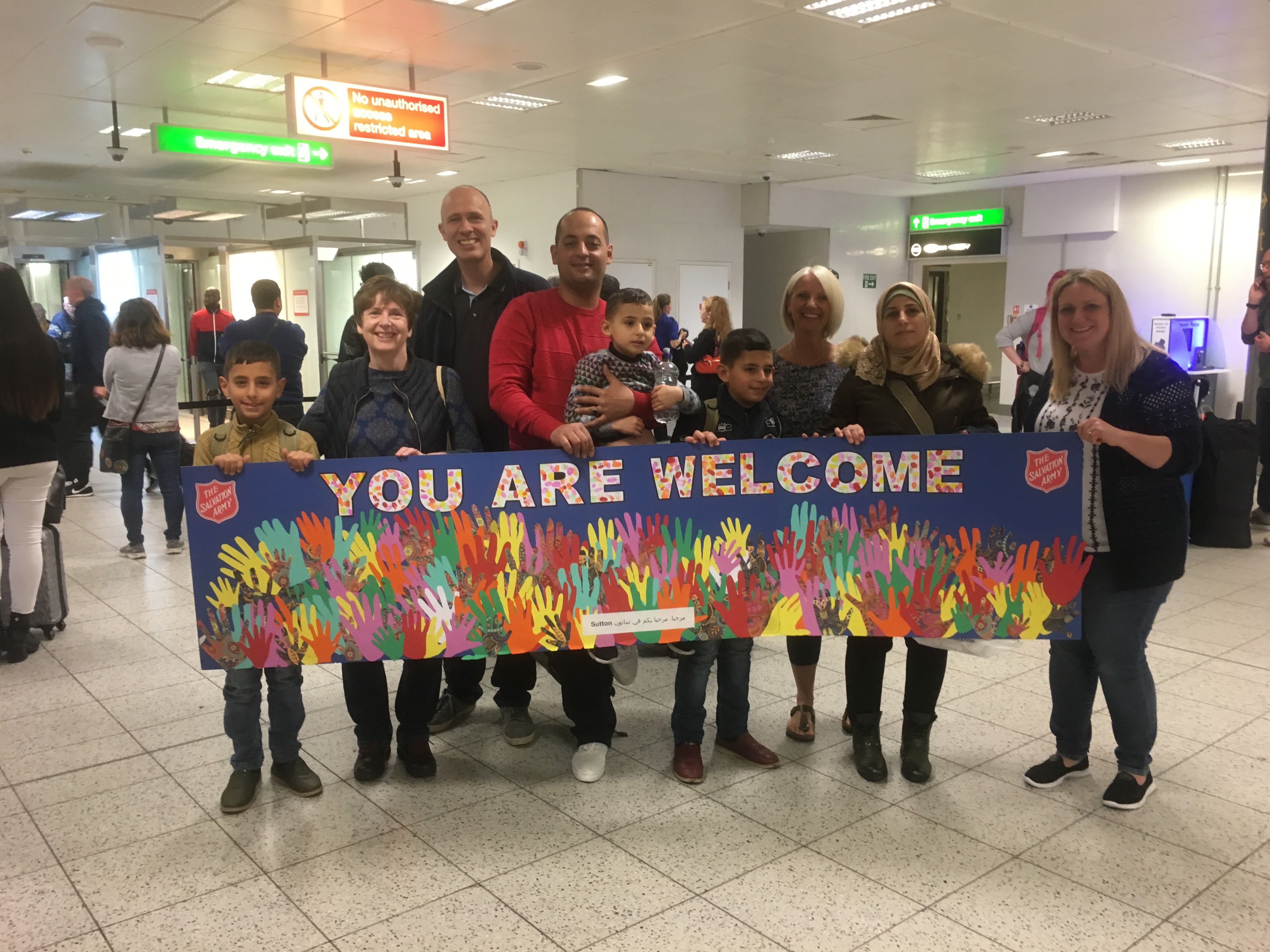 Arrival In the UK
If you have completed all the previous sections you will have done much of the work that is needed for a successful application to the Home Office.
In the following sections, you will cover four other areas of the application. We start here with planning for the arrival of the family in the UK.
Airport Welcome Team
It is quite simple. You need to work out who in your Group will meet and greet the family at the airport. This Airport Team should definitely include your main English/Arabic interpreter, and the Lead person in your Family Support Team.
In addition, the Airport Team should have a good gender balance, and - if the family have children - might include children of Airport Team members (though bare in mind that there could be a long wait at the airport, as they go through border controls).
The number of people ideally wouldn't exceed 5-6 people, including drivers.
What Does A Warm Welcome Look Like?
Have a think about how you will greet the family in the arrivals hall. You want to give them a warm welcome, so carrying a small banner with a Welcome message in English and Arabic is a nice idea. Toys for the children is always popular.
Bear in mind that the family has endured a long journey and will be tired so be careful not to overwhelm them, or make a spectacle of them.
Guidelines
To safeguard the family's privacy, do not have any references to "refugees" on your banner.

In terms of transport from the airport, consider how you intend to do this. The family will have substantial luggage so a mini bus may be relevant.

It is important that the family can travel together, and are not separated.

Make sure each family member travels in the same vehicle as their luggage.

Bring some water and culturally appropriate snacks for the journey, a 'sick bag', in case of travel sickness, and child car seats if there are children.
Photos
Before taking any pictures, ask for the family's permission. Note: Even if you have their approval, you cannot use the picture digitally on that day - wait until you have established a good relationship, so can be sure they give their genuine & informed consent. That said, most people we speak to have been glad that they have a photo to look back on this special moment, and so if it feels appropriate, we do encourage you to take some pictures.
Once You Reach The family's New Home
Finally, make some plans for what needs to be in place when the family arrives home with the Airport Team.
We recommend the following:
1. A pre-prepared meal that the family can warm up
2. Fully stocked food cupboards and fridge, containing appropriate food stuffs sufficient for the family to prepare meals for at least a week
3. A Welcome Pack, translated into Arabic, containing information about the house, the neighbourhood, the Group + contact numbers, including out-of-hours and emergency services.
Attached - Syrian Food List
Attached - Welcome Folder
To ensure an easy first 24 hours, work out a brief plan for what you are going to tell the family after they arrive at the house. Considering they will be tired and disorientated, limit the information you share with them at this point. Aim to spend at most 1-2 hours walking through key info such as how to turn things on and off, how to open and lock doors etc. The rest can wait for the following day.
---
Filling out the Application Form: Arrival in the UK
1.2a. Who will meet and greet the resettled family at the airport?
EXAMPLE ANSWER: Up to 5 volunteers from the Family Support Team, including an interpreter. We will decide the final composition once we know more about the family and the flight times.
1.2b. How will your group manage the arrival, ensuring that the resettled family's dignity and privacy is maintained? (100 words)
EXAMPLE ANSWER: We will learn greetings in their language, and are aware of conventions for greeting e.g. no handshakes/hugs unless the family initiate.
We won't take any photos of the family without their consent, and any photos involving the family will not be shared publicly within the first several weeks, and only after then with their informed consent.
We'll have a small welcome banner, but this won't include their names, or reference to them being refugees.
We will follow Covid guidelines – we'll wear masks, and take lateral flow tests on the day.
1.2c. Please confirm that you or your group will not: share the details of the address of the family's home publicly, take photos without consent or use any materials that publicly identify the family as refugees .
Yes
1.2d. What arrangements will your group make to transport the resettled family and their belongings from the airport to their new home?
EXAMPLE ANSWER: We will hire a minibus for this purpose and ensure that the family are not separated from one another or from their luggage.
We will give them appropriate snacks and drinks for the journey home.
We will also provide sick bags, in case of travel sickness.
We will install a child seat for the 3-year old.
We will explain how long the journey will be. We will give them an opportunity to use the bathroom before we set off.
1.2e. What plans will your group make for the resettled family's arrival at the property, for example, how will you ensure that they are able to look after themselves, including having access to a pack of groceries and being able to contact emergency services? (250 words)
EXAMPLE ANSWER: The house will be warm and stocked with appropriate food, toiletries, toys, and book.
Beds will be made up.
When we arrive at the house, we will give the family the keys, and allow them to open the door themselves, so that they feel ownership of their new home.
We'll show them around the house with the help of the interpreters, and make sure they know enough about the house and equipment to settle comfortably for the first night. For example, how to lock windows and doors, how to use kitchen appliances, bath, shower, and heating.
We'll give them emergency contact details, and show them how to call emergency services. We will provide a sim card, and if necessary a mobile phone. We will also give them the wifi code since they will probably want to speak to their family straight away.
We'll provide a translated information pack (with pictures), with key contact details, local maps, and instructions for household appliances.
We'll provide a meal that is appropriate to the family's ethnic background, which can be heated up. We will ask whether they want to eat alone, or with members of the group. Then the family will be left to settle on their own and to rest.
Before leaving for the day, we'll discuss with the family when to return, so that they know when to expect us. It will either be later that day or on the following day, depending on the arrival time and their preference.
Syrian Food list English Arabic .pdf
Complete and Continue