Becoming or Partnering with a Charity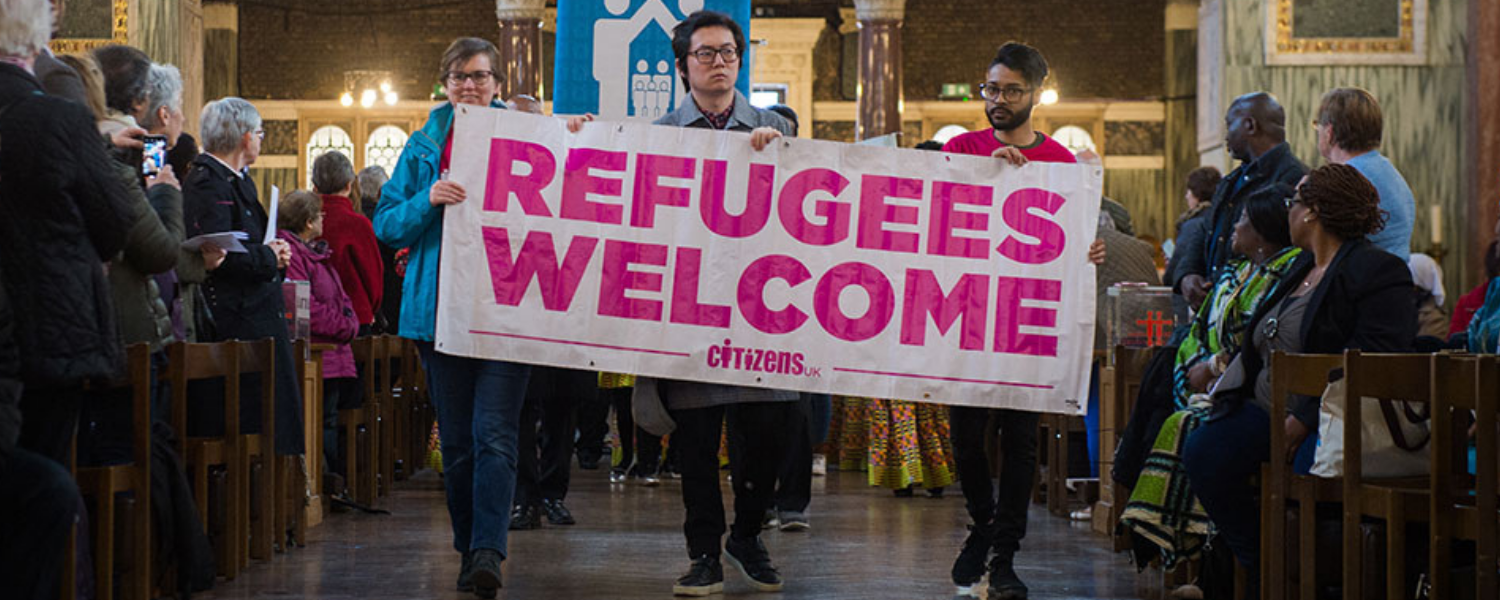 A key requirement to be accepted as a sponsor by the Home Office is that you are:
· Already a registered charity or Community Interest Company (CIC) OR
· You become a registered charity or CIC OR
· You link up with an existing registered charity or CIC which will act as your 'Lead Sponsor'
This requirement reflects the fact that Community Sponsorship is a significant commitment for a volunteer community group and the Home Office wants to be sure that every group is able to fulfil its responsibilities to the refugee family.
We would recommend that you only go down the route of becoming a charity or CIC (a quite long and complicated process) if your group definitely aspires to support multiple families over a number of years. You can find some initial guidance on this route here.
Instead, we recommend that you approach an experienced charity to act as your "Lead Sponsor" Organisation.
---
Choosing a "Lead Sponsor" Organisation
Choosing your Lead Sponsor will be one of the most important decisions you will make as a group. They are taking legal responsibility for your group and its actions. In the unlikely and unfortunate event that your group breaks down, the Lead Sponsor will need to mediate, and potentially step in to support the refugee family. So it is important that you have trust in each other.
The charity will need to assign a person in a significant leadership position (e.g. a Rabbi, a Senior Manager) to oversee and sign off on your application. This person will include their personal details on the Application Form, and the Home Office communications will be sent through to them – so make sure it is someone who is responsive and supportive of your aims.
---
Sponsor Refugees (Citizens UK)
Citizens UK are the Lead Sponsor Organisation to more than 70 Community Sponsorship groups across the UK. We are currently the only non-religious Principal Lead Sponsor who can support groups in any region of the UK.
Who are we?
Citizens UK organises communities to act together for power, social justice and the common good. We are the home of community organising in the UK, with diverse civil society alliances across the UK. We develop the leadership capacity of our members so they can act on the issues that matter to them. Community organising is democracy in action: winning victories that change lives and transform communities.
Sponsor Refugees is a project of Citizens UK. We launched in October 2017 and we work to build the Community Sponsorship movement in the UK. We are the largest Lead Sponsor in the UK, and we are a key partner of the Home Office, Reset and other organisations in developing sponsorship.
Contact us to find out more: [email protected]
What is our approach to Lead Sponsorship?
We want to welcome as many families as possible to the UK through the Community Sponsorship scheme. We believe the scheme strengthens civil society and is transformative both for host communities and for resettled families. Being Lead Sponsor is one of the best ways we can support communities to participate – by assuming the risk and taking the hassle out of the application process.
We do have some safeguarding procedures that we ask all groups to follow, and we strongly emphasis an approach of mutual respect and dignity for the family. But otherwise, we encourage you to approach Community Sponsorship "your way", and we embrace the creativity and innovation that each community brings to this project.
What do Citizens UK provide as Lead Sponsor?
Leading expertise in Community Sponsorship and a dedicated team member to provide bespoke support
30+ years institutional knowledge in Community Organising
Cohort Networks - regular online calls to connect and learn with other groups across the country
Ability to apply through the

PSAP (Principal Sponsors Application Process) - a new fast-track application process for experienced Lead Sponsors

Your own fundraising pages (with ability to receive regular and text donations and claim gift aid)
Safeguarding Framework – Volunteer Registration, DBS checks, Support, Training. [Cost of 5 DBS checks included (admin fee £12-33 for additional checks. These are supplier costs, we do not make a profit).]
Public Liability Insurance (Note that our policy cannot cover groups that are registered charities or CICs - you will need to arrange your own cover).
Access to a confidential 24-hour counselling line for registered volunteers & their family members
Group mediation sessions if necessary
What do we expect of our Lead Sponsor groups?
Sign a Memorandum of Understanding (template attached below)
Follow our policies and procedures (inc. safeguarding, risk assessments, code of conduct)
Be a proud advocate of Community Sponsorship
Lead Sponsorship Dues: £1,500 per application (£1,000 for groups in membership of Citizens UK).
Treat the resettled family with respect, dignity and autonomy: "Nothing about the family without the family"
Why do we ask for Lead Sponsor dues?
It costs Citizens UK an average of £4,500 for each group that we support as Lead Sponsor. To ensure that we have sustainable funding income, we ask groups to contribute towards these charitable costs, so that we can continue to support you, and promote the scheme.
Your dues will cover for the full sponsorship journey - from planning your application, all through the 24 months of support you provide to the family. Don't worry - this does not need to be paid up front before we offer support, though it must be paid before we submit the Home Office application. We can work to create a flexible payment plan that works for your group.
What have groups said about us?
"The advice, the resources, the approachability, the friendliness, the availability - Everything is indispensable!"
"We couldn't have asked for more"
"You are a body we can always talk to, for general advice and resources - but as much, you've given us encouragement to keep going when it was hard. I think we would have given up without Sponsor Refugees!".
"You have helped us in every way - the list is endless!...You're the best people to do it through"
---
Other Lead Sponsors
There are alternatives to Citizens UK acting as an experienced Lead Sponsor, depending on where your group is in the country and factors such as faith identity. Here is a list of other potential Lead Sponsors you could approach:
Caritas (Catholic groups)
Catholic Care (Yorkshire)
Nugent (Liverpool)
The Pickwell Foundation (North Devon)
Reset can offer objective advice about each Lead Sponsor, and help you to consider which organisation would be the best fit. Contact [email protected]
Local Charities
Another alternative is to approach a local charity, perhaps a refugee charity, village society, or a faith institution, and ask them if they would be your 'Lead Sponsor'. The disadvantage of this path is that the potential Lead Sponsor will probably not be familiar with Community Sponsorship from the start. This would likely add a lot of time to your planning, as you gain consent from a Board of Trustees, and the Lead Sponsor learns their new role. That said, many successful community sponsorships have happened this way.
Reset have a useful toolkit for Lead Sponsors here.
Memorandum of Understanding
You will also need a Memorandum of Understanding that you could adapt to clarify the arrangement between your Community Sponsorship Group and your Lead Sponsor. We've included an example of the MOU groups sign with Citizens UK.
Attachment - MOU Template
---
Filling Out The Application Form:
If Sponsor Refugees/Citizens UK are your Lead Sponsor, we will complete this section for you.
1.1 - 1.9: About Your Organisation
For this question, you need to add information about Lead Sponsor Organisation - i.e. the charity who is sponsoring you.
For example, if Citizens UK is your Lead Sponsor, you will complete it like this:
1.1 Name of your organisation: Citizens UK (Sponsor Refugees) (This is the name of your Lead Sponsor Org, not your CS group name)
1.2 Public address of your organisation: Citizens UK, 136 Cavell Street, London, E1 2JA
1.3 Telephone number: 020 7043 9881
1.4 Website: www.citizensuk.org
1.5 Charity number: 1107264
1.6 Company number: 05268071
1.7 Details of membership or affiliations to a larger body or umbrella group: Citizens UK is a membership organisation and GROUP is one of its member institutions. Citizens UK will act as the lead sponsor and GROUP will be responsible for the implementation and overall running of the proposed community resettlement scheme.
1.8 Does your organisation hold a current UK Visas and Immigration sponsor licence (select 'yes' or 'no')?
Yes
X No
1.9 If yes, what is your sponsor licence number:
Confusingly - sponsor license is nothing to do with Community Sponsorship! This is whether you have sponsored a foreign worker through a Tier 2 or 5 visa. For Citizens UK, the answer is No.
1.10 Name of your Group (if different to your organisation): For example, "Herne Hill Welcomes Refugees"
2.1 - 2.10 Lead Sponsor
This is the individual within the Lead Sponsor Organisation who will take responsibility for your application. It must be someone in a significant leadership position.
The Lead Sponsor must also sign the declaration at the end, and submit the form from their email address.
The form asks for confidential information, such as Passport and Driving License numbers. Since you will be sharing this form among group members, we recommend that you do not add this information until the very end. If Citizens UK are your Lead Sponsor Organisation, we will complete this section for you.
Choosing a Lead Sponsor Org - Citizens UK.pdf
Complete and Continue