Day of Arrival

Airport Dream Team
This is the big day, the one you have been working towards for months. It is likely to be an emotionally draining day, but also a very happy one. Much of what you will need to bear in mind on arrival day has already been covered in Section 16.
Below is a recap of what you need in place.
This Airport Team should definitely include the following:
Your main interpreter

The Lead person in your Family Support Team
Other than that, the Airport Team should have a good gender balance. If the family have children, you could include children of Airport Team members (though be prepared for a long wait). The number of people meeting the family probably shouldn't exceed 5 or 6 people, including drivers.
At the Arrivals Hall you want to give the family a warm welcome, so carrying a small banner with a Welcome message in English and Arabic, is a nice idea. You might also want to have some balloons or toys for the children. But the family will be tired and disorientated, so be careful not to turn the welcome at the airport into a circus.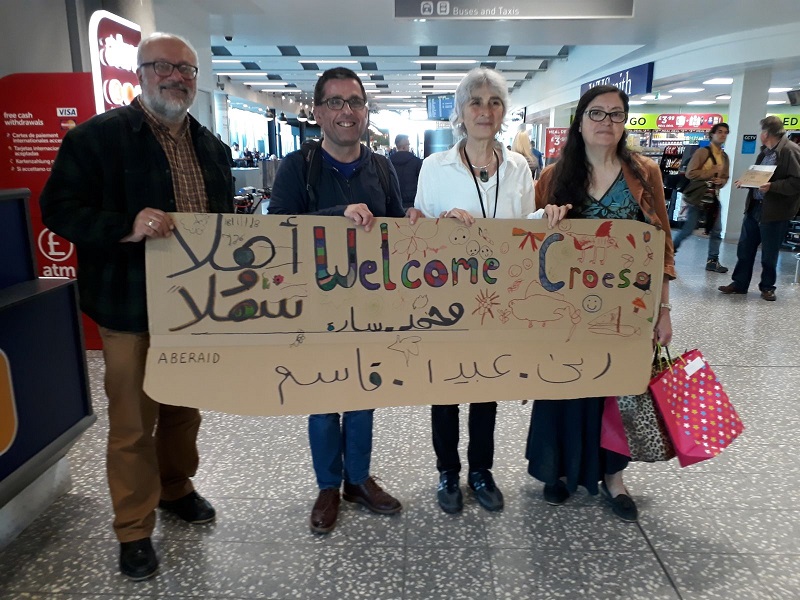 Arriving Home
Finally, you will need to have made plans for when the family arrive at their new home from the airport.
The following things should be in place:
A pre-prepared meal that the family can warm up

Fully stocked food cupboards and fridge, containing appropriate food stuffs sufficient for the family to prepare meals for at least a week

A Welcome Pack, translated into their language, containing information about the house, the neighbourhood, the Group + contact numbers, including out-of-hours and emergency services
Attached - Specimen Welcome Pack
Attached - Syrian Food List
You should have a plan for what you are going to tell the family after they arrive at their new house. Remember, they will be tired and disorientated, so won't take a lot in. At most, you will want to spend an hour or two with the family in the house, before leaving them to rest and settle in. So, all you will really be able to cover is some essential information about the house - how to turn things on and off, how to open and lock doors etc. Who to call in an emergency. The rest should be left for the following day.
Remember, that from this point the house or flat is the private property of the family. They, and only they, should have the keys (though you might want to make an arrangement for someone external - a next door neighbour perhaps - to have an emergency set of keys.) From now on, members of the Group should only be entering the house from if the family are happy to admit them and generally when there is a scheduled appointment or meeting.
IMPORTANT: Do remember to take some pictures and videos of this day. You shouldn't share them immediately and must get the family's informed consent before doing so. But we do encourage you to capture this big day - if you don't make a visual record today you cannot go back and do it later.
INVENTORY FOR HOUSE English Arabic.pdf
Syrian Food list English Arabic .pdf